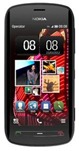 Nokia yesterday has released the much hyped 41 megapixel camera phone Nokia 808. But the extremely high price tag of 808 is keeping its potential customers away from it. It is priced at Rs. 33,899 at Flipkart which is also its MRP. At this price one can choose from variety of powerful option already available in the market. Some of these options includes Sony Xperia S at Rs. 28,500, Samsung Galaxy S2 at Rs. 26,000, Samsung Galaxy Note at Rs. 30,500 and HTC One S at Rs. 32,500.
Apart from its price there are some other negative points which are responsible for its initial negative response. Some of these points are listed below:
The first and foremost negative point in this smartphone is its

weak processor

. Nokia has already been claiming always that Symbian does not require dual cores or quad cores for it smooth operation but from the point of an end user, he/she will definitely expect at least dual core in this price range.
Another negative point is its

low RAM.

At this price 1 GB RAM in smartphones is a common thing. Again here Nokia is claiming that Symbian does not require more than 512 MB RAM.

Low screen resolution

of 640 X 360 is also one of its weakest point. A phone at this should have at least HD display.

Out dated Symbian OS

in Nokia 808 is another negative point which is driving its potential customer away from it. No body wants to buy Symbian phone for 30K+ rupees.
Also it is

not a portable phone

at all. The big lens at the back of phone is giving 808 awkward appearance.

VGA secondary camera

at a price of Rs. 34,000 is a folly.
Last but not least the

high price

of this phone is its biggest negative point.
The only positive point in this phone is its camera. That too is not up to to the mark as compared to DSLRs. If you are going for this phone because of its camera than avoid it and instead purchase a cheap DSLR which will beat Nokia 808 from every side.