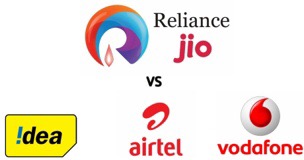 The incumbent telecom operators received a major shock in the year 2017 when Reliance decided to enter the telecom arena with its Jio brand. Being a PAN India license holder of 4G spectrum Jio started to offer unlimited calling and data usage over LTE to its users as a free beta test. It started to become popular and roped in more users by launching schemes such as Jio Prime. People were really excited that they finally have a telecom operator which offers broadband like speeds and unlimited calling at such an affordable rates.
But the major question remains is of quality. I am using Jio for quite a bit of time and also used it in multiple states. But truly speaking I am not impressed with the quality of Jio at all. Here are some of the issues I face with Jio everyday.
1 Sim getting unregistered automatically for hours without any possible explanation.
2 Maximum signal which I receive during my travel to the office is 2 levels.
3 Random drop in signal to 0 every now and then.
4 Calls getting disconnected randomly
5 Poor voice quality.
6 Though Jio supports 4G speeds, most of the time my content in YouTube remains in buffering.
Before Jio I was a regular user of both Airtel and Vodafone and have been with them for like 5 years but I never faced random connection drops and sim getting unregistered problems with them. Now that both these incumbent operators are matching the price of Jio I am thinking of going back to Vodafone.
Jio definitely have more room for improvement. Being a telecom engineer my self I know how hard it is to improve the networks performance and reliability. So good luck to Jio and continue to improve your network.