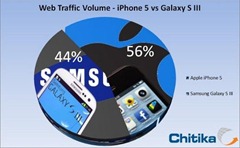 This perhaps will be first good news for Apple regarding their latest iPhone 5. According to an advertising firm 'Chitika', more volume of traffic on the internet is noticed from iPhone 5 as compared to Galaxy S3 that too just after 18 days of its launch. As far as numbers are concerned 'Chitika' claims that 56 per cent of ad impressions come from iPhone 5 users and 44 per cent comes from Galaxy S3.
According to Chitika the most probable reason for this abnormal surge in traffic from iPhone 5 is the availability of high speed 4G LTE speeds. iPhone 5 is the first iPhone to support the latest 4G LTE technology. As a matter of fact this same technology was already present in mid to high end Android smartphones. Apple is definitely late in adopting the same for its beloved smartphone.
Though traffic volume from iPhone 5 beats that from Galaxy S3 but the launch of the much hyped iPhone 5 fails to produce a dent on the sale of Galaxy S3 which grew by 15 per cent after the launch of iPhone 5!