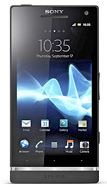 Sony has recently released the ICS update for their flagship smartphone Xperia S. Xperia S is the smartphone from Sony's NXT series which came into existence after Sony purchase the mobility division of Ericsson. Despite of being the flagship phone from Sony, Xperia S initially comes with Android 2.3 Gingerbread OS which draws criticism from most of the reviewers. But after the launch of the ICS update for Xperia S, Sony silence all these critics.
The latest will be available to all Sony Xperia S users. Users can update their phone to the latest OS by using OTA (Over The Air) update or via Sony mobile suit. OTA update can be performed if you have a Wi-Fi connection. It is not recommended to preform OTA update on a 2G GPRS network because of low downloading speed.
The update improves the overall functionality of Xperia S. Sony has also used their customized GUI for the new ICS update.
Please note that though it is confirmed that ICS update for Xperia S is now officially available there might occur a situation in which some of the users from certain countries have to wait longer to get the update. This is common for OS update process for most of the companies out there.