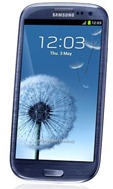 Now if you want to own this beast than you don't have wait any longer, Galaxy S3 is now readily available at you local retail outlet and at online shopping websites like Flipkart, Homeshop18 etc. Priced at Rs. 38,990 on Flipkart, Galaxy S3 is the most premium and expensive offering from Samsung presently. Though you can get the same phone at around Rs. 37,500 from your local retail store if you know how to bargain.
At 38,900 there are plethora of options available to a buyer. One can buy HTC One X and save himself a massive amount of Rs 1,500 to 3,000. If someone want to spend some extra bucks that he can always buy Apple IPhone 4S for Rs. 42,000 from Aircel. That would also be a good option. The price of Galaxy S3  is bound to fall in coming months because this always happens! Companies always release their products at maximum price so as to gain maximum profit by selling their overpriced products to fanboys and enthusiasts. But in case if you are not any of them than i will suggest you to wait for 2 to 3 months. After that time the price of Galaxy S3 will be in the range of Rs. 30K to 35K.
Galaxy S3 features a quad core CPU and quad core Mali 400MP GPU which gives it a edge over other quad core and dual core smart phones. Though Galaxy S3 for USA features a dual core CPU instead of quad core because of the presence of 4G LTE chip in US version which is not yet compatible with quad core CPU.