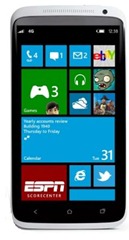 Last week Microsoft launched the next major version of Windows mobile operating system and named it as Windows Phone 8. Windows Phone 8 brings some serious improvements over Windows Phone 7.5 and Windows Phone 7.8. Two of the such improvements includes support for HD resolution displays and support for multi core processors.
These two features will enable Windows Phone partners like Nokia, Samsung and HTC to use multi core CPU and high resolution display in their new Smartphones based on Windows Phone 8. Now as per the leaked information going around the web world, HTC will soon launch three new smartphones named HTC Rio, HTC Accord and HTC Zenith running the latest Windows Phone 8.
The launch date for HTC Rio and HTC Accord is expected to be around October of this year and for HTC Zenith it will launched towards the end of the year. HTC Zenith is rumoured to be the flagship upcoming Window Phone 8 smartphone from HTC.
The leaked specs of these phones are listed below in tabular format:
Feature

HTC Rio

HTC Accord

HTC Zenith

Chipset
Qualcomm MSM8227
Qualcomm MSM8227
Qualcomm quad core based chipset (name still not confirmed)
CPU
Dual Core 1 GHz with
Krait cores
Dual Core 1.5 GHz with Krait cores
Snapdragon Quad core @ 2.5 GHz (rumour)
RAM
512 MB
1 GB
2 GB
Display
4 inch @ WVGA
4.3 inch @ HD Resolution
4.7 inch SLCD2 display @ HD resolution
Primary Camera
5 MP
Recording at 720P
8 MP
Recording at Full HD
NA