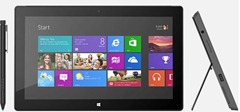 As you all know that Microsoft Surface Pro is the second tablet from Microsoft after Surface RT tablet launched by Microsoft few months back. The previously launched Surface tablet was based on Windows 8 RT as its primary operating system but the latest Surface Pro comes pre loaded with Windows 8 Pro edition. This means it can run any desktop application whereas the one with Windows 8 RT edition can run only ARM or tablet specified apps.
The launch pricing for the latest Surface Pro tablet is explained below:
For 64 GB Model the initial pricing is 899$
For 128 GB Model the initial pricing is 999$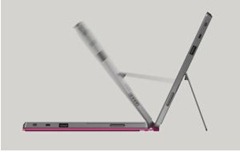 After seeing the launch pricing of Surface Pro tablet many tech bloggers and tech enthusiasts begin to criticize the pricing scheme followed by Microsoft. They started to compare Surface Pro with the latest Apple iPad which is presently retailing at 499$ for the base model and goes as high as 829$ for Wi-Fi + LTE model. They just compare the prices and didn't compare the piece of hardware which is powering both these devices.
If we compare these devices with respect to hardware specs then Surface Pro tablet is clearly the winner. It is powered by latest 3rd Generation Core i5 processor and comes loaded with 4GB of RAM which clearly blow away iPad with respect to processing power.
Not only this, Microsoft Surface Pro also comes with USB 3.0 port, Memory card slot and display connector (mini). It also comes with capacitive stylus for taking handwritten notes. So instead of comparing Surface Pro with ARM based tablets, comparisons should be made with the latest latest Hybrid Windows 8 Ultrabooks launched by different companies in the past 2 weeks.
Indian availability and pricing of Microsoft Surface Pro is yet to be revealed by Microsoft.