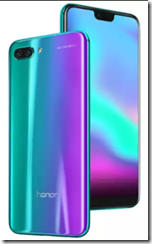 I may not have written much about Huawei's smartphones in the past but they sure are getting more and more interesting as the time passes. Huawei is known to be investing heavily in AI and it is at the forefront in China to do the same. It is investing heavily in the field of AI because of the fact that AI is going to be the game changer of tomorrow.
But lets leave the tomorrow part and get back to the present. Huawei is going to use its expertise in Artificial Intelligence in the camera for its smartphone Honor 10. But you must be wondering what exactly will be the role of AI in imaging. Actually it has a very important role in the area of photography.
All the face detection procedures are AI dependent. Many big companies are acquiring start ups who are working on this technology because of the fact that it is going to be important. Similar is the case here also. Huawei is using it AI prowess to analyze data from public cameras in China and this is definitely not a simple task and it is now bringing the same in their Honor 10 phone also.
Not only this, Huawei is also claiming the fact that blurring the background of an image which is supposed to be an AI intensive task is more elaborately implemented in Honor 10 as compared to iPhone X. They claimed that iPhone X cannot blur the background in a group photo but Honor 10 can do it in a jiffy.
Huawei is going to launch Honor 10 globally in London. It will be available in India online on Flipkart.
It will feature a 24 Mega Pixel camera and will feature a technology called as SIST abbreviated Semantic Image Segmentation. With the help of SIS technology it will be possible to peel out the layers from an Image. Image Segmentation is a pure AI concept and can be implemented in variety of ways and uses deep learning techniques. It will also house a 16 MP secondary camera and will come with a screen size of 5.8 inches.
Honor 10 is already available in China.