The error code 720 which occurs usually while establishing a connection to remote server using PPP. this problem can appear out of the blue for no reason in Windows OS but most probable cause is the some internal TCP/IP stack issue which can be caused due to corrupted WAN miniports.
I will here share what actually works for me.
Open Device Manager by pressing Windows + X and selecting device manager.
In Network Adapters section you will see the following list of available miniports on your machine.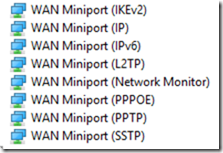 Right click on the WAN Miniport (IP) and Uninstall it. Windows will reinstall the same after sometime automatically. In order to make it visible again just right click on Network Adapters in the device manager and click Scan for hardware changes.
See your issue is resolved now.