Asus is continuously trying to enter into the highly lucrative but competitive smartphone market but till they haven't got any major breakthrough. They have some decent smartphones for sure but competition is always one step ahead of them. Asus is not a much known brand in the field of smartphones but they are definitely a major force in the computing component category. They are the manufacturers of some of the best designed motherboards and graphic cards and because of this I am quite sure they will get a lead in the smartphone segment also.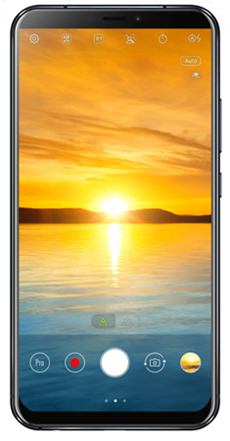 To keep its momentum going on Asus is going to launch its flagship smartphone ZenFone 5z is India tomorrow. And this time they seem to be quite serious about the dynamics of the market. We have variety of smartphones in the mid segment category which boasts some serious computing power and other features like One Plus 6. But Asus is confident on this one. ZenFone 5 will feature Qualcomm's fastest SOC that is Snapdragon 845 and will also feature 6 GB of RAM in its base model and 8 GB in mid and highest models. Base model storage will be at 64 GB which can be scaled to 128 and 256 GB in higher end models. It will be available in 2 colors initially. Blue and Silver.
Asus was teasing the launch of ZenFone 5z from past few days on Flipkart. One of the feature that they are boldly mentioned is the rear camera lens. It will feature a Sony IMX363 sensor with specs set at 1.4 micro meter pixel (basically it means that it will allow the capturing of more light during photography and hence will perform better in low light conditions). They have also mentioned that Snapdragon 845 supports something called as AIE (Artificial Intelligence Engine. What this basically means is that your device will have some dedicated section of hardware for making decisions on the basis of data. This can be used to deliver you more personalized content, privacy leak protection and hence more reliability.) Also they have embedded the video of an interview with cricketer Dinesh Karthik. I seriously don't understand the logic of this but definitely a good marketing strategy.
Specs in summary format are mentioned below:
· SOC – Qualcomm Snapdragon 845 Octa Core CPU ( 4 Kyro Gold Cores @ 2.7 GHz clock speed and 4 Kyro Silver Cores @1.7 GHz clock speed)
· GPU – Qualcomm Adreno 630
· Display Size – 6.2 inch IPS LCD
· Resolution – 1080 * 2246 (402 pixels per inch)
· Dual stand-by SIM with a common slot for micro SD card with max capacity of 512 GB
· Primary Camera – Dual camera setup (12 MP focal 1.8, 1.4 micrometer sensor, PDAF and 8 MP focal 2.0, 1.12 micrometer sensor)
· Secondary Camera – 8 MP (focal 2.0, 1.12 micrometer)
· 3.5 mm jack available
Now let's come to the main topic that is pricing. Price of ZenFone 5z is one of its major attraction point.
The base model with 6 GB of RAM, 64 GB ROM is priced at ? 30,000.
8 GB RAM model with 128 GB ROM is priced at ? 34,000.
8 GB RAM model with 256 GB ROM is priced at ? 37,000.